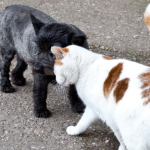 It's time for a family reunion so you need a cattery in Stretford because your cat isn't welcome at the relative's home. Our family welcome your cat to spend some time in the care of our animal loving family. He is welcomed to our safe 200 acre facility in the countryside of Dunham Massey. This much land makes a nice safe buffer from the outside world. Our feline guests enjoy their own heated chalet with all the comforts and stimulation of home. If you have more than one cat and they're used to being together, we have larger sized chalets where they can bunk together comfortably. Fine food and fresh water is always in plentiful supply.
Any time you have to be away from home for more than a day or two we encourage you place your cat in our care. In Stretford, our cattery can be seen as a home away from home. Your pet lives in your home with you as an important member of your household. We know you talk to them when no one is around. It's natural to worry about their well-being when you're not at home. They may have you believing they can manage just fine alone but don't be fooled; without their usual care and attention cats can become stressed to the point of illness. When you leave them in our care you'll know they're safe, warm and fed. Without that worry you can attend to your family reunion with a clear conscience.
Our cattery in Stretford is isolated from our kennels where your dog is welcomed with the same care and comfort as your cat. If you are a multi-pet family you will find there is a safe haven with us for your cats and dogs for as long as needed. In fact, if your gerbil, rabbit or other small pet needs a temporary home we can likely accept them. When you arrive home it will be a great reunion. Contact Roe Clare Cattery and schedule a tour of our facility to assure yourself your pet will be safe and comfortable with us. Feel free to call and check on them while you're away and we'll gladly give you an update. Leave the pets with us and they will be happy and healthy on your return.