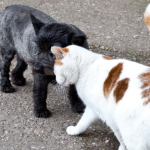 Your feline friend will enjoy the time away from you at our cattery in Little Bollington. At Roe Clare Cattery and Kennels, we have a fully-equipped facility that provides your pet with every comfort and safety. We have a fully-qualified veterinary nurse on the premises 24×7 to take care of emergencies. Your kitty will have his or her own fully heated individual "chalet" situated in a beautiful, open air location with plenty of fresh air and a healthy atmosphere. If you'd like to provide your own food, we're glad to oblige. Otherwise, we provide high-quality meals tailored to your cat's needs. In general cats dislike moving and living in a strange environment. However, our trained team ensures that this process is made as comfortable and stress-free as possible.
For cat owners in Little Bollington, cattery services are offered by many providers, but not all of them are reliable, trustworthy or safe. It's important to spend a lot of time and effort in identifying one that suits your individual needs, preferences and budget. Being animal enthusiasts ourselves, we understand how pet parents feel when they entrust their precious creatures to strangers. That's why we recommend that you start looking for a cattery when you don't really need one. This means that you're not under pressure to make a decision in an emergency or crisis situation. Check the facilities in your local area, because a local service like ours provides a personalised touch and customised service.
When you select a cattery in Little Bollington that's close to your home or place of work, you can rely on them to help you out in case of an emergency or family crisis. This gives you the leisure to check out the facilities thoroughly, ask the right questions and judge whether it's right for your cat. When you are looking for a professionally run cattery, contact Roe Clare Cattery. Our cattery is situated in the heart of Dunham Massey in the idyllic Cheshire countryside. This means your cats can grab cat-naps whenever they want, and get enough play time too.