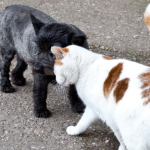 When you need temporary pet boarding in Hale, don't hesitate to give us a call at Roe Clare Cattery. We know how difficult it is to leave your pets behind, but if you cannot take them with on your trip, leave your pets in our hands and we will take care of them. We have a purpose-built cattery and kennels to house your cats and dogs. Smaller pets, such as hamsters and rabbits are also welcome.
As well as specifically designed facilities, we have a qualified veterinary nurse on-site. In Hale, pet boarding means that your pets are well cared for, safe and content until your return. Our family run business is located in the peaceful countryside of Cheshire. Your dogs will receive the exercise they need as we provide 3 daily walks. We all have a beautiful orchard area available for them so that they can release boundless energy while playing ball and running round with one of our dedicated staff members. The kennels we have are all fully heated to ensure your dog is comfortable and warm during his stay. Your cat will also enjoy her stay with us as she will stay in an individual fully heated chalet with an open air view over our gardens. Many households have other pets as well as cats and dogs, and it can be a challenge to arrange care for them while you are away. We have the facilities to welcome smaller pets as well, such as rabbits, guinea pigs and hamsters.
Pet boarding in Hale at our facility means that all your pets can be well-looked after while you are away. If you require more information about our pet boarding facilities, contact Roe Clare Cattery. Our team is dedicated to the animals in their care, and you can rest assured that all your pets, from big to small, will be lovingly and professionally cared for while you are away. Your pets' dietary needs will be catered for, and should any medical needs arise, our on-site veterinary nurse is available to attend to their needs.