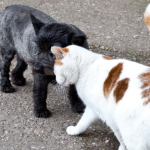 We offer pet boarding in Partington so that family holidays are easier on the whole family. Bring your cats, dogs and other small animals like hamsters and bunnies to us and let our experienced staff care for them while your family is away. We care for each pet according to their individual dietary and health care needs. We even have a veterinary nurse on staff to attend to any medical issues. We do not turn off the lights and all go home at the end of the day leaving pets unattended. Our boarding facility is staffed around the clock seven days a week. Each animal has their own space with plenty of room and all the comforts including clean bedding, plenty of food and water and a good share of staff attention.
Our cattery is equipped so each cat has their own large chalet; comfortable and warm. If you have more than one cat in Partington, pet boarding together is arranged if that's what they are used to. We have larger chalets for that purpose. Our kennels for dogs are well separated from the cattery. Again, each dog has his own warm resting place and plenty of exercise. Our 200 acre property is idyllic for their three long daily walks. Your small pets such as guinea pigs and hamsters are safely caged with frequently changed clean and dry bedding. Our boarding facility is a safe environment for all of your pets where all their needs for food, water, exercise and attention are met.
Pet boarding in Partington is often more stressful for the pet owner than the pet. We suggest if you stay calm your pet will likely make a quick adjustment to their temporary home. Once they realise they are cared for and their needs are met they will settle in comfortably. Contact or visit us at Roe Clare and take the tour of our pet boarding facility and the surrounding grounds.  We think you will agree that our guests are happy, healthy and well cared for in a safe clean environment. We hope your visit will free your mind of worry so you can enjoy your holiday confident your pets are enjoying their own vacation. Still, they will be glad to see you when you return as you will them.