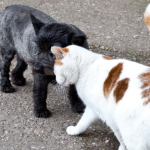 For pet boarding in Knutsford, we welcome most small animals into our care. Our services are designed for your, the pet owner, peace of mind when you must leave home for short or long periods of time without your pet. As pet lovers, we understand the uncertainty of leaving pets in the care of others. Dogs are high maintenance so their owners accept the need for a boarding facility. Dogs need attention and exercise. Their feedings have to be regular to stay on a schedule to relieve themselves. They put up a ruckus when they are bored, hungry or need to go out. It takes a staff to care for a dog in a kennel just as it takes a family to care for one at home. We have a pet loving staff attending our comfy kennels with two feedings and 3 walks a day.
Cats are not as high maintenance as dogs but that doesn't mean they should ever go without attentive care. In Knutsford, pet boarding your cat will allow him or her to be safe in our cat villas with a view. Our cattery staff are about interacting with our feline population so your cat is not alone. Litter boxes are changed frequently and high quality food will keep them happy. The cattery is secure so your cat is safe with us. We don't want you to leave your other small pets at home unattended. Bring your rabbits, gerbils and hedgehogs to us so they can enjoy clean cages, fresh food and water under the watchful eye of our staff.
For pet boarding in Knutsford, we offer the best care for your pets. We are family owned and located nearby in Cheshire on over 200 acres. For more details about out pet boarding facilities, contact Roe Clare Cattery. Your pets may not appreciate our lovely setting but you will feel better knowing they are surrounded with beauty and safety. Our facility is staffed 24 hours a day, 7 days a week so your pets are not without monitoring. We also have a veterinary nurse on staff to dispense any medications and keep watch over their health. All we ask from you is that your pets be fully vaccinated. We make no exceptions so all our pets remain healthy while in our care.