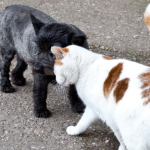 Are you struggling to find a cattery in Hale Barns that ticks all the boxes? Have you just not been satisfied by the catteries you have come across so far? Well, it is high time you give Roe Clare Cattery a call. We are located in the breath-taking countryside of Chesire, on 200+ acres of private land. Our facilities are well-kept and regularly inspected. We cater for every need that your furry friend might have. If your kitty needs a once-off temporary home, then the stay here will be like a vacation for your precious friend. If you travel regularly, we are more than happy to become your cat's home away from home whenever we are needed.
While you are away, you will want your cat to be treated with same amount of love and affection. Your beloved pussycat will receive all the care and attention that he or she needs here at Roe Clare Cattery in Hale Barns. Cattery is a name that paints a picture of a warm, comfortable place to stay. It is a happy and loving environment for all cats to enjoy. It is somewhere that you know your kitty will be safe and well looked after.
Contact Roe Clare Cattery for a cattery in Hale Barns. We are a team of dedicated and passionate animal-lovers. Our facilities are fitted individual boarding spaces. These private spaces are heated for warmth during chilly weather, spacious so that the cats don't feel locked up and fully equipped to cater for any kitty who stays with us. We provide quality food to ensure your darling pet is well-fed and nourished. Play is important for all cats, but especially for younger cats who are still full of energy, and we supply an array of cat toys which will satisfy the young ones and give the old ones a taste of their kittenhood. The only requirement we have for potential boarders is that they are vaccinated. If they have any other medical situations, we do administer medication and there is an experienced fully qualified veterinary nurse on site.