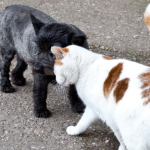 Are you planning your summer holidays and telling all your friends, "Please find a cattery near me in Altrincham" ? That's one of the top stress builders when you have pets – having to go away leaving them behind. But when you leave your furry friend with us at Roe Clare Cattery, you don't need to worry about a thing. He will have his very own individual, heated, chalet-style luxury accommodation in our lovely farm in scenic Cheshire. All his needs are provided for, according to his requirements. We also have a 24×7 veterinary-nurse to handle emergencies and ensure that kitty stays healthy, happy and well-fed. Leave your cat here for as long as you wish. So go ahead and plan your holidays!
The best time to start looking for boarding facilities for your cat is not at the last moment when you're rushed for time. In Atrincham, a "cattery near me" search should ideally happen when you don't really need it. This gives you the time and leisure to check each place thoroughly for facilities, cost, quality of care, experience and qualifications of staff and hygiene. Another aspect to remember is that good, popular catteries get booked well in advance. Often, what you're left with at the last moment is the less-preferred, poor quality places. Choose one that's in your local area, because that gives you the confidence that the owners are part of the local community. Your vet can easily recommend a good place and this gives a place extra bonus points from a professional who has the know-how.
A well run cattery in Altrincham near me is something that good friends and family-members would be glad to recommend, especially if they've used the facility earlier. To find a professionally run cattery, contact Roe Clare Cattery. A personal visit is most important and we're glad to show you any time around. Your cat needs to be vaccinated and that's all we really stress on. Do tell us about your cat's likes, dislikes, routine, habits and food preferences. Bring a few of his toys or favourite cushions along when you leave kitty with us. This helps him to settle down.