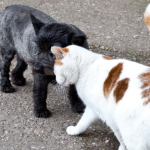 All pet owners want a caring and comfortable cattery in Lymm when they are obliged to travel. Cats are curious creatures and can get themselves in trouble through investigating things they shouldn't. They need constant care to ensure their well being. We spend time with your pet to make sure it feels loved and cared for. Our cattery is situated within a beautiful open air location overlooking gardens. It is very quiet and peaceful allowing the cats to sleep away the day in a warm and homely environment.
Cats can be especially fussy creatures and demand the highest level of comfort. In Lymm, cattery comforts include individually heated chalets which will keep your pet in luxury on even the coldest days. Our specially designed rooms allow the cat to exercise when it feels frisky or to lounge in the toasty warm chalet on soft bedding. We ensure that the chalets are always clean and hygienic and that the cats have fresh water at all times. We only feed them the best available food that has been designed especially for cats. The litter boxes are regularly cleaned and changed to keep the area free from odours. Your cat will have a wonderful time with us and you can travel or go on holiday knowing that it is safe and happy while you are gone.
We offer a home away from home at our cattery in Lymm. Contact Roe Clare Cattery today to book a place for your cat when you next have to travel or go on holiday. Visitor are welcome to inspect our facilities at any time during our open hours. We are situated in the heart of beautiful Cheshire countryside on over 200 acres of land. We have a fully qualified veterinary nurse on site to ensure all the dietary needs of your pet are met and exceeded. The nurse will make sure that any medical conditions are closely watched 24 hours a day, 7 days a week. We have many years experience in looking after animals and our staff are avid animal lovers and spend as much time as possible with the pets.