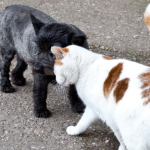 Cat boarding in Bowdon is important for your precious pet. You cannot leave home without making sure that your cat will be well looked after and spoilt. At our cattery we do spoil our guests. We have state of the art individually heated chalets. These can be for one cat or more if your family is larger. We welcome larger families of cats as they tend to be happier with their friends. The runs are very spacious and allow the cats to sun themselves on warm days. The chalets are warm and snug with a bed with clean bedding and an aperture for entry and exit as well as air vents. This ensures that the cat feels safe and secure and can cuddle up in private. Our cattery has been built on a farm of over 200 acres and allows the cats fresh air and new interesting smells.
Every time you have to go away on business for holiday in Bowdon, cat boarding makes you feel guilty. We have a fully qualified veterinary nurse on the premises who will administer any medication you pet is currently taking. We also make sure that your cat receives only the best food available. The pets are looked after 24 hours a day, 7 days a week. Their enclosures are kept scrupulously clean at all times. There is a slight chance of airborne infections and all animals that stay with us need to have their inoculations up to date to protect all the residents. Your cat is welcome to stay as long as you need regardless of any medical problems.
Cat boarding in Bowdon is easy once you have visited our facilities. Contact Roe Clare Cattery today or visit us during our opening hours. It will set your mind at ease once you have seen how well looked after our pets are. Our staff makes sure to pet and cuddle every animal at least once during the day so that your cat does not miss you too much.