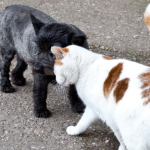 Catteries in Northenden are essential to your cat's well being. When you have to go away, either for a holiday or for business, the biggest worry you have is the safety of your pet. They tend to miss you and you can feel very guilty for leaving them at a strange place while you are gone. Our cattery has luxury accommodation for your cat which will make his holiday as comfortable as yours. Each cat has a specially heated cabin to sleep in and a secure run to lie in the sun and bathe. We provide the best of food and lots of attention and cuddles. We also have highly qualified personnel who will make sure that your cat stays in perfect health.
When you need someone to look after your cat in Northenden, catteries are a safe and secure place to board him. One of the biggest concerns when boarding your pet is being sure that he is well looked after and happy. The last thing you want to do is ask a friend to pop in and feed your cat. This can be a most unpleasant time for your pet. The house is empty and if he is lucky the friend will pop in to feed him at his usual meal time. What about the litter box and warmth? You do not want to leave your boiler on in an empty house but if you leave your pet at home you will need to provide him with heat. What if he gets sick while you are away? A good cattery will take care of this problem.
Well-established catteries in Northenden will pamper and spoil your pet. We will also keep a close eye on his health and if needs be, we will take him to the vet. Contact Roe Clare Cattery to find out more about our catteries. Book your beloved pet in for your next holiday. You get to have a worry free holiday and your cat will have a holiday of his own.