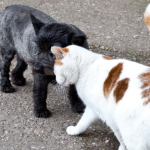 You're getting ready to go on holiday but before you can go you need to look for catteries in Hale Barns for your precious cat. Mittens means the world to you and having her well taken care of while you're away is all you can think about. Plus, only you know her personality and her quirks involving clawing your favorite clothes at a certain time every day. Where in the world will you find someone who will care for Mittens with the same adoration that she's used to?
Roe Clare Cattery is the highest rated cat boarding facility in the area and they guarantee that your cat won't even know you're gone. In Hale Barns, catteries are common but the care that you'll find at Roe Clare Cattery is high above its competitors. Finding a cattery that puts as much effort and love into the care of each cat that comes through their doors is not as easy as you would imagine. Roe Clare Cattery understands the unique personalities of its feline visitors and ensures that your cat will come away happy and relaxed. The staff members are entirely qualified and enjoy getting to care for your Mittens until your return. A fully trained nurse is on site to ensure all her medical and dietary needs are met. Mittens will also have her own personal heated chalet to stay in during her visit. And since there is no limit on how long your precious animal can stay, you can enjoy your holiday for as long as you want!
When looking for catteries in Hale Barns, there is no better choice than Roe Clare Cattery. Your cat will have the time of her life being pampered with every possible want being met while you have a worry free holiday. So before you're ready to board that yacht, find out more about reputable catteries and contact Roe Clare Cattery and book your cat's spot today! The only thing you have to worry about is convincing her to come home.