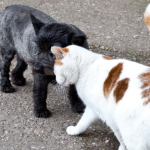 Put yourself in your cat's place when seeking cat kennels in Broadheath. How would you like a holiday away deep in the quiet countryside to sleep, eat, take a walk and be entertained by passing performers? You would have your own comfortable chalet with a view of lovely gardens. You would have a complete daily cleaning service. Meals, (gluten free on request)  and drinks are all inclusive. They are specially delivered to you at regular intervals by smiling servants that pat your head and tell you how beautiful you are. Everything is provided for your comfort but if you want to bring you own pillow and your IPad you are welcome to do so. If you want to bring your best friend, the two of you can share your chalet. However, fighting is not tolerated.
If you think you would enjoy such a peaceful respite, we must apologise. In Broadheath, cat kennels with all of these amenities are reserved for cats only. You will have to find your own accommodation that specialises in people. We have to warn you though, it's going to cost you more than you ever imagined. Certainly cattery accommodations are the tiniest fraction of the cost you will be paying for your people holiday. Now you can see why we are the best holiday spot around for your cat. While you and your family are away from home, your cat will be getting attentive care. He won't have to hope somebody remembers to open the blind or deal with hunger pangs waiting for food to be tossed in his bowl. And even if there is water already in his bowl from yesterday, he will get fresh water anyway. Now that's service.
Do your cat a favour and bring him to our cat kennels in Broadheath. We're a safe healthy environment for your cat while you are away from home. Contact us today to schedule your cat's holiday at our cat kennels. Don't leave him home alone where he will develop anxiety possibly followed by illness. It's too risky to leave him at the mercy of the neighbourhood kid who may or may not show up; who may or may not remember to close the door. Your cat will be well cared for so you will have peace of mind and enjoy your own holiday.