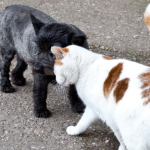 You might need a cattery in Urmston if you're going away on holiday. We know how hard it is to leave your fur babies, but there are many occasions when you can't take them with you. Many cats have a difficult time sitting still during long road trips. Many can't even handle a drive to the vet! If you tried to keep your cat in a car for a long drive to visit relatives, he might get restless and hurt himself, you … or the car. That's a best case scenario. A worse situation is he might jump out and get lost along the way, which would be devastating to both of you.
Even if your cat did get to the destination, he may be uneasy with new surroundings or busy environments. In Urmston, cattery requirements might be prompted by a business trip, or a visit by a guest that has a cat allergy. There's no reason for your kitty to be inconvenienced by these little upsets. He or she can take a vacation of her own, and here at Roe Clare Cattery, we'll make sure she loves her glorious holiday. We are a family business located on over 200 acres of lush country paradise. All our four-legged guests get personalised care, access to a vet, and a room with a view. Every cat gets his or her own individual boarding section with a bed, breakfast, lunch, dinner, and whatever else he or she might need.
A cattery in Urmston offers your little boy or girl constant attention so they will never be lonely. Their room is heated and has plenty of space to stretch, scratch, exercise, and curl up into the perfect sleeping position. It is well-ventilated, has both natural and artificial lighting, and is kept nice and clean, just the way your cat likes it. If you are looking for a cattery, contact Roe Clare Cattery. We have options for long stays, so your cat can visit with us for a few days, a few weeks, or even a few months. We'll make sure she feels at home the entire time. If you need some peace of mind for your cat while you're away, get in touch with us and we'll make sure your fur baby is well taken care of.