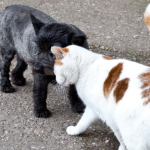 Cat kennels in Hale, Cheshire are a home from home for your beloved and treasured pet. We know how much you love your cat and that he is a part of your family. This is why we treat all the pets in our care with the love and understanding that we treat our own pets with. When you have to go away from home you worry that your cat will be unhappy. Many of our customers who regularly use us know that their cat is pampered more than they are. The kennels are individually heated so that the cats are warm and snug. They have an enclosed outdoor run if they need some fresh air. The kennels are on a farm with all the enticing smells and sounds that will keep your cat interested in his surroundings.
We understand how you worry about your pets when you have to go away. In Hale, Cheshire, cat kennels of the highest standard will help to make your trip easier. There is a fully qualified veterinary nurse on site who will keep an eye on your pet. The food is of the highest quality and the pets are given both wet and dry food. Any special dietary requirements are easily dealt with. If your pet is on medication when he comes to stay our veterinary nurse will make sure the medicine is correctly administered at the correct times. All our pets have up to date vaccinations to ensure that there is no chance of any disease being passed between them. The cats are kept in their own enclosure and do not come into contact with other pets. If you have more than one cat they can share a chalet.
Cat kennels in Hale, Cheshire are important for any pet owner. Contact Roe Clare Cattery today and we will be proud to show you our cat kennels. We will make sure that your cat is healthy and happy while enjoying a holiday in our care.