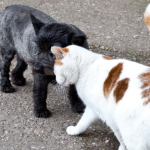 Cat boarding in Timperley will save you the worry of your cat getting into trouble while you are away. Cats are notorious for being independent, couldn't-care-less creatures, but even the snootiest cat will be lonely if you suddenly disappear for the weekend. While they are perfectly capable of taking care of themselves, they are also prone to roam or wander if left alone for long. To avoid your cat getting lost, hurt or accidently locked in the neighbour's shed for the weekend, it is best to book them in at a cattery. The cattery will provide a safe, enclosed environment where your cat can enjoy the luxury and pampering to distract them from your absence.
If your holiday or business travel plans mean that your cat will be alone at home in Timperley, cat boarding is the best option. Cat minders, friends or neighbours could always come round to feed your cat at home, but for the majority of the time, he or she will be left to their own devices. If you know who Slinky Malinky is, you know this is not a good thing. Why not give your cat a mini-holiday at Roe Clare Cattery for your own peace of mind as well as their enjoyment? This lovely cattery and kennels makes every effort to keep your cat pampered, entertained and comfortable.
Roe Clare Cattery's cat boarding in Timperley has no time limit – your cat is welcome to stay as long or as frequently as you require. Contact Roe Clare Cattery if cat boarding sounds like the ideal cat boarding solution for your cat. They will have their own heated chalet with a covered play area to stretch their legs in, as well as ample warm, sunny spots to curl up in.